Looking out I can see tropical palm trees swinging to the rhythm of the ocean breeze next to red brick-coloured rooftops scattered left and right. Further way I can hear the waves breaking on the shore through the Spotify playlist that I just put on. The beach is just a few hundred meters from here.
I am sitting on the second floor of my Bali villa in the sleepy seaside village of Canggu listening to summer tunes (necessary at 32 degrees celsius!) while writing this post about my adapted paradise home for the past few months.
Canggu hasn't been on the tourist map for very long. And it's only slowly becoming popular by digital nomads seeking a life closer to the beach than you would find it in Ubud. It's especially popular among expats which is visible with modern villas popping up between the lush green rice fields.
Honestly, before the first time I arrived here I thought it was already a lot more developed, but it's not. There are still unpaved roads, the washed-out bumpy "shortcut" and not many resorts right on the beach unlike you find next door in Seminyak. Canggu definitely has some hipster vibe stuck to it with some charming characteristics.
I really appreciate life so close to the ocean. All the cool cafés, the healthy food, the green rice fields and that the beach is as long as the eye can see. I could literally walk from here to Seminyak, Legian and even Kuta (which might take me 3 hours though).
I like that the streets are not crowded (well except for the occasional wait along the shortcut) and I can go to the local market and pay the local price and not be ripped off because I look foreign. And that I can go to the beach and have locals greeting me in the morning or a friendly chat about today's surf.
Best Time to Visit
There is really no best time to come to the island of Bali. You can visit anytime, though a few things might affect your decision.
The weather is tropical with high temperatures year around. High season is generally during July and August, but before and after those months is even better, like May, June and September. Then it's dry season, less humid and prices for accommodation are still a little cheaper than in high season.
From October to April is rainy season, so take into account that there will be short downpours. However, even in the rain season you will have hot sunny days! In the wet season the beaches can be more dirty than in the dry season as rubbish is unfortunately washed down from the inland rivers and back ashore and between chunks of wood, plastic is especially a problem. If you want to help clean up the beaches around Canggu, there are regularly organised clean up walks, so take part if you can!
Another thing to keep in mind are Bali events and festivals, like the "Day of Silence" for example, also known as Nyepi, when the whole island goes silent (and dark!) for 24 hours to celebrate the start of the Saka New Year. It's a day of reflection, fasting and meditation for balinese Hindus but affects foreigners and visitors alike as everything is shut down and no one is allowed on the streets or beaches, even the airport is closed.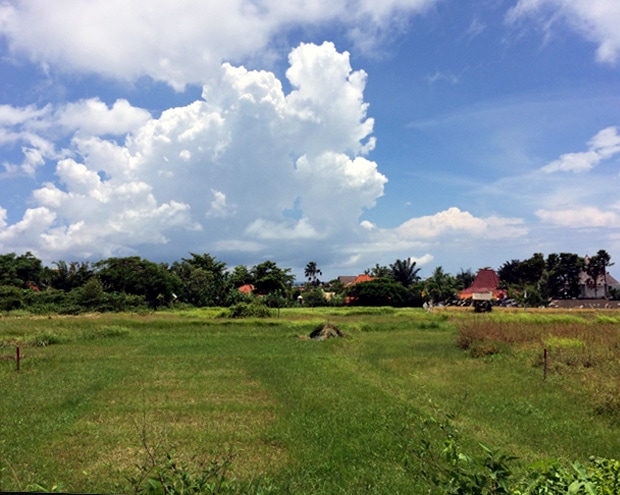 Orientation 
Canggu consists pretty much of three parallel running main villages with their own beach areas: Berawa Beach, Batu Bolong and Echo Beach bordered by a bigger road called Jalan Raya Canggu to the north about 5km inland. From here there are three streets running parallel: Jalan Pantai Batu Bolong, Jalan Pantai Berawa and Jalan Padang Linjong.
The biggest crowd of shops, restaurants and cafés sits along Jl. Pantai Batu Bolong ending at the popular Old Man's Bar and sunset viewing spot over Batu Bolong Beach. Jalan Padan Linjong is the main street leading onto Echo Beach. Finally Jl. Pantai Berawa splits off into two: Jl. Canggu Permai II where you will find the local market (recognised by a huge red wall, it's right behind there) and Jl. Pantai Berawa with some more cafés and restaurants as well as housing the Canggu Club, an entertainment and sporting venue including a water park and fitness center.
Right after the Canggu Club you can find my favourite supermarket in the area, Canggu Deli Station, perfect for local and international grocery shopping.
Following along with the main traffic, after two turns you will find yourself on Jalan Subak Sari, the road leading on to Seminyak and here is a bigger Pepito supermarket also, it's only recently opened so Google maps doesn't list it yet, but you will definitely spot it with its extensive car park and big green/orange sign.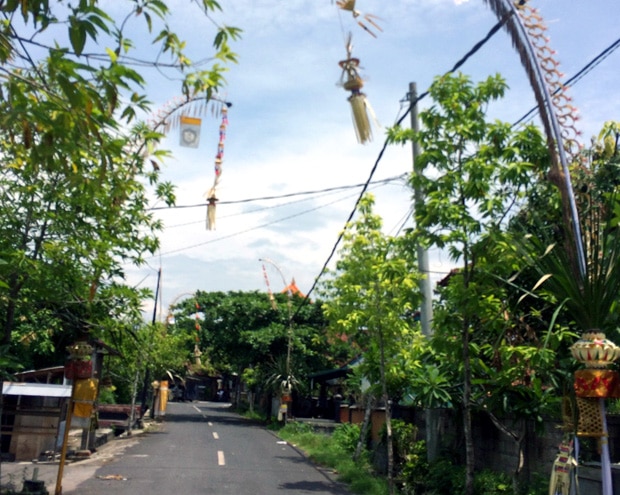 Getting Around
Since the three main streets go parallel right down to the beach and lack connecting roads in-between it's always a little detour inland over the famous rocky "shortcut" or some other small streets. The most direct way is always a walk along the beach.
Hiring a scooter in Canggu
Otherwise I do recommend hiring a scooter (I paid 500.000 Rupiah for a month and had quite a new one, but it varies and around 600.000 Rupiah is normal) or private car with driver to get around. The streets are not very busy around Canggu, but the shortcut can be a challenge on a scooter if you haven't had much driving practice before. Likewise when it's raining streets get swamped easily.
Alternatives to get around Canggu
Alternatively if you don't want to drive yourself, download the Go-Jek App where you can "Go-Ride", so grab a driver (scooters only) or Grab Taxi is another good app to find a taxi. Uber exists too but is limited and many areas including Canggu are trying to restrict all those services as you will see big signs stating that they are prohibited.
There are a few local taxis stands scattered around but it's not easy to pick one up in the street as there are simply not driving around in abundance. Try to get one of the light blue Bluebird Taxis as they generally have a reputation for being honest and go by meter. All other taxis can be more tricky in Bali's corrupt taxi industry. A ride from Canggu to the airport in a Bluebird Taxi costs around 120.000 Rupiah.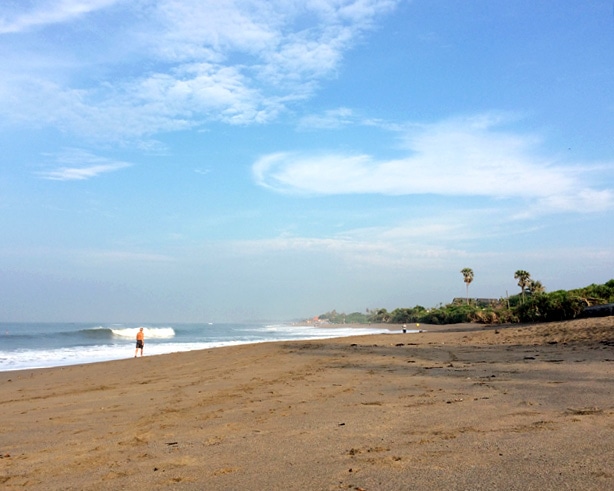 Things to Do & See
Catch Waves from Sunrise to Sunset
While the beaches around Canggu have dark beige to black sand and are not amazing for dreamy crystal-clear swimming (those are more in the south of Bali), they do provide some renowned surf spots with reef breaks offering different conditions to many levels.
If you are wondering where you should start off surfing in Canggu, I really like Old Man's – Batu Bolong spot and often head out there. It's surf-able all year around and you'll see people in the water any time of the day from sunrise to sunset. Usually with light wind and between mid to high and also high to mid tide on the run out is great.
Where to Rent a Surfboard?
There are a few surf hats right in front of the Old Man's Bar where you can rent boards of all sizes for 50.000 Rupiah for two hours or bring your own, there is plenty of parking (free & paid). You can also ask for a surf lesson here, there is always someone around who will take you out for 2 hours which will set you back about 350.000 Rupiah.
The short break right at the shore is bitch though, I see so many people get smashed (yep, including me a few times) so just be quick here getting in and out. Otherwise it's a pretty safe spot. Also for swimming, even though lifeguards are rare in Bali, if you are take care of the short break and listen to locals, you'll be fine. Make sure you watch for the red flags too as the beaches on this stretch of the coast have dangerous rip tides and undertows which can become very strong and pull you out into the ocean.
Are There Any Surf Schools?
Of course, heaps! You'll find many local surf schools around Canggu by simply googling or asking locals. If you want to go with someone renown, I'd also recommend the Aussie surf tour company Mojosurf. They do multiple day surf-safaris too.
Furthermore, be sure to check out The Chillhouse, a boutique surf, bike, yoga and lifestyle retreat, if you are staying around for a few days.
Get into Yoga
Canggu is less spiritual than Ubud, but you can still get your yoga fix or start out at becoming a yogini! I enjoyed my yoga class at the Serenity Eco Guesthouse as there are plenty of different classes and they are the cheapest in Canggu at 100.000 Rupiah for a class (longer discounted passes available too).
Other yoga places to check out:
If yoga is a bit slow for you (I am not exactly good at sitting still for meditation but I like the idea and enjoy it from time to time), there are some options you should try like CrossFit, 2befit or Motion Fitness which are all in the area and offer some cool courses from boot camps on the beach to pilates and booty core programmes.
Take a Ride along the Beach
If you dare to jump on a horseback and ride through the rice paddies or against the stunning Canggu sunset, be sure to check out the Bali Equestrian Centre, a renown stable in the area with healthy horses and experienced trainers.
Make Your Own Pretty Jewellery
I really wanted to make some pretty stuff and not only type in my laptop while in Bali so I decided to go for a silversmithing class at the House of Alaia. I made a necklace and ring in 3 hours and had a great time as the staff was really lovely. They have some wonderful inspirational jewellery in the shop where you sit the workshop too but it's always good to come with an idea what you want to make.
This class has also led me to start up my own jewellery Instagram channel where I share beautiful travel-infused jewellery pieces I find across in Bali, Australia and other parts of the world.
In case you don't feel creative enough to make your own jewellery, I highly recommend checking out one of the artsy markets around Canggu. My favourite one is the monthly occurring market at Old Man's which is always on the last Saturday of each month.
Find a Spot to Watch the Sunset
Catching a beautiful sunset in Canggu is an absolute essential!
The biggest crowd of sunset watchers can be found around Old Man's where you can grab a fresh coconut, beer or corn on the cob from one of the many small street stands at the bottom of the car park. Don't worry, you won't miss where all the action is happening, just go past this flashy blue wall and you'll see!
If you face the beach and walk to your right you will soon hit The Lawn, one of  my favourite places for a sundowner as you can laze on the pillows, sun chairs or in the hammocks with popcorn and beer. There is also a swing which makes for a beautiful sunset snap.
Berawa Beach and Echo Beach have beach huts too and are definitely a good spot to watch the surfers catch the last waves of the day. Try the Naked Coconut, a rather new bar which is a bit hidden but you can find best when walking along Berawa Beach to the right.

Book a Spa Time
No visit to Bali would be complete with a spa treatment and since it's so cheap why not get your nails done too? I loved the massage at Goldust Beauty Lounge in Canggu, wonderful atmosphere and professional staff! I can also recommend Think Pink Nails, a New York style nail parlor, just so glamorous and nice. To be found on the way into Seminyak coming from Canggu. While they do all things nails perfectly, they also know massages, facials, waxing and more!
Visit Tanah Lot Temple
Tanah Lot Temple is a popular landmark for tourists so you definitely won't escape the crowds here. Often referred to as the temple in the water, this ancient Hindu shrine is perched on top of a rocky outcrop in the middle of constantly crashing waves.
It's a 15-20 scooter ride away from Canggu and most popular at sunset with many tour busses arriving for their last stop of the day. Even though you cannot access the temple grounds, the views are amazing and it's worth discovering the smaller shrines dotted around and you get a nice look of the coast. Sometimes there are traditional dances too and of course, there is a tourist village with all sorts of souvenir stalls which I however don't fancy too much.
Where to Eat, Drink Good Coffee & Find Free Wifi
The options are plenty of amazing options to eat, have fantastic coffee and hook up to the Wifi in all areas of Canggu. Here are my most favourite picks.
Gourmet Canggu: One of my favourites, eat Bun Bo, Spaghetti Carbonara or the Rosemary Burger, soo good! Top it off with an Apple Crumble and you are set for the day. Very reasonable prices for Western Food!
Bungalow Living: Eating in a beautiful home interior store, that's pretty accurately how Bungalow Living can be described. From bed covers to cards and bags, you'll definitely find something you want while munching on a Falafel Panini or Salmon Bagel.
Peloton Supershop: I am not vegan and despite, this cozy café blew my mind. I loved the delicious vegan dishes made from local, fresh ingredients, from breakfast to coffee breaks and lunch you'll sure find something here!
Milk & Madu Cafe: A local outdoor café especially popular for breakfast and brunch. They have Nalu Bowls there too as well as their own super breakfast bowls, and great coffee by Revolver, which is a good place to visit if you happen to be in Seminyak. Internet works very well here.
Hungry Bird: Avo Chicken Salad all the way! Hungry Bird had inside air-con and outside seating and I like to come here for lunch and occasionally some work, the wifi is a bit swanky though. Very reasonable prices here!
Crate Café: Green smoothies and breakfast all day, oh and well lunch too! No printed menu, just whatever is on the big white board behind the counter. Nice seating for some people watching and strong coffee.
Satu Satu Café: A recent discovery of mine while looking for good wifi around Berawa. Perfect for working, great coffee and bakery stuff. I also love the Smash Avocado and Chicken Panini. It's quite small and I sometimes had to share a table but the staff is super friendly. You'll see many others with laptops sitting in there.
Cinta Cafe: Sitting amidst the rice fields, it hardly gets better than this in terms of views in Canggu. The food is pretty nice too, try the Salmon Pasta, grilled tuna steak or hummus and falafel plate. Good wifi speed to be found here!
Betelnut Cafe: You haven't been to Canggu if you haven't been to Betelnut Café! Salads and wraps are simply amazing, so are the cheese cakes which are always available in so many flavours! Small inside with air-con room downstairs or the rustic upstairs open-air ricefield view, your choice!
Roti Canai: Next to Betelnut Café, you'll find Roti Canai, my go-to place for all things Roti! From savoury to nutella, you'll find lot of flavours to try. They have some Indonesian food, Sate, Salads too. I also love the homemade pies, worth a try! Good prices to be found here.
Poke Poke: Hawaii in Canggu? Yep, you can get that here too! The ahi poke bowl is a classic Hawaiian appetizer made from marinated diced yellowfin tuna loins with onion, ginger, scallion, soy sauce, and sesame oil. Of course there are various flavours, super delicious! Inside it's actually connected with Roti Canai. Oh and check out that awesome swing inside the restaurant!
Ruko Café: A popular pit-stop for breakfast and perfect to get your creativity flow in the morning. The interior is stylish and the Acai and Bircher Bowl unbeatable. Right next door is another small place called Rojo Café which is small but nice for a bite after a morning surf.
The Piring Daun: Nice Indian and Indonesian curries served in an industrial-chic atmosphere. Butter Chicken and Naan, just soo good!
The Warung of Dandelion: My favourite place to take visitors to eat wonderful Indonesian food. The place is nice and airy with a garden and very friendly staff. Most times they have rabbits scampering around in the garden. Try the Nasi Goreng, Kare or ask for the recommendation of the staff, they will be delighted to suggest something to your taste!
Avocado Café: Cute little place with a stunning menu. Amazing salads, especially love the Caramelized Pumpkin salad with quinoa and feta! Also a nice dessert range, Internet is okay.
The Shady Shack: This nautical beachy shack is one of my latest addictions, I simply love their style, interior and of course, the food is amazing, smoothie bowls, eggs and raw organic masterpiece cakes. Yum!
Little Flinders: A more recent addition to the food scene in Canggu and definitely a stylish one. From the interior to the friendly staff and diverse food menu, I simply fell in love at first sight!
I could keep going with this list of awesomeness cafés and food to try, but the general rule of thumb here in Canggu is: Go any where and everywhere and try anything and everything, there is no single place that is bad!
Dojo Coworking Space
Dojo is little bit of a different coworking space. It's a very hip two-story house in Echo Beach where you can meet freelancers, bloggers and entrepreneurs from all over the world. The inside air-con and outdoor seating areas, Skype booths as well as the pool surrounded by a nice tropical garden make it a great atmosphere to connect to new people, bounce ideas and network. Check out their website for events such as workshops, skill sharing session or social meetups, there is always something happening! Drop in for a day costs IDR 150000 and there are several different monthly memberships available.
Next door you can find Nalu Bowls, so your early morning work session is surely saved with a good breakfast!
Where to Party in Canggu? Or Well, Have a Sundowner?
So where is the party at in Canggu? Anywhere? While it doesn't get as wild and crazy as any party in Kuta or at the night clubs next door in Seminyak, you can find some sweet spots to have a relaxed sundowner by the beach or if you fancy, listen to some live music or djs playing some tunes.
Old Man's Canggu
Old Man's is Canggu's beachfront beer garden, well or at least a cool spot to hangout and watch the surfers as it is set right above one of the main surf breaks in Canggu. The food menu is simple and you pay a little extra for the location. I prefer eating somewhere else and coming here for drinks and the crowd of people, which is very chilled out and friendly and you will have an easy time meeting people. Live music on the weekends and Happy Hour 2 for 1 is from 5-6 pm, so pretty perfect for sunset.
Walking past Old Man's towards the beach, you'll see a few small stands selling beer, fresh coconuts, corn on the cob and souvenirs. You'll get the beer cheaper here, so why not head down here if you are on a budget.
Deus Ex Machina
The biggest and best night at Deus is on Sundays, when the live band gets everyone in the courtyard to dance. Until midnight, then you either continue with DJ music or head over to Sandbar.
Tuesdays is famous at Deus for it's Tacos-n-Tatts, where you simply buy some tacos and you get a small tatto made for free, just bring your own design along and you'll be freshly inked in 20 minutes!
The Lawn Canggu
Anywhere along the beach in Canggu is perfect to watch the sunset, but The Lawn is especially cool for its atmosphere, beach bags and fresh popcorn and cold Radler and coconuts sold from a polished VW Kombi, one of my absolute favourite vans (one day I am going to own one, oh yesss!).
No entrance fee and you get to take a funky swing photo without having to travel to Gili T, boo ya!
As for a beachfront experience, Finn's Beach Club has just recently opened its doors right on Berawa Beach and you definitely won't miss this massive bamboo structure while walking along the beach. Sun beds seem to be a bit pricy and I am yet to find out what's happening around there.
Where to Stay
My favourite area to stay in is around Berawa Beach, the southern part of Canggu. When I first lived in Canggu for a few months, I found a room in a private villa to share with other digital nomads, which was very cool.
How to Rent a Villa in Canggu
To find a villa locally, I'd recommend looking through the Canggu Community Facebook group as well as this one and this one. There are heaps of offers, just check them out locally before you make a decision to move in and of course, you are free to negotiate the price face to face one with the landlord again too.
I think you can find a decent villa with your own room for around IDR 4500000 a month, more expensive and fancy is always possible as well as cheaper and more basic, but I guess that's a good indication for finding a nice place.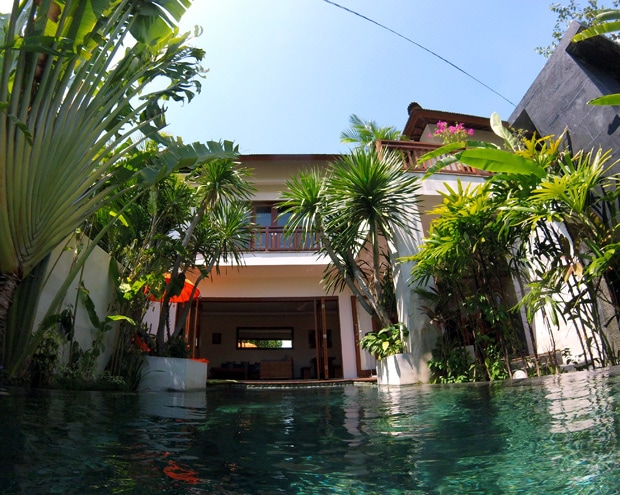 Airbnb is always an option, especially if you are around for a while. There are quite a few good options! And if you haven't used Airbnb yet, you can now sign up and save €20 on your first stay, that's like 1-2 free nights here in Bali!
Do you like more hotel and guest house recommendations around Canggu? Alright, I got some of them too, here you go:
This air-con guest house is located not far from Canggu Club and the café scene of Berawa. Clean, affordable rooms with your own bathroom, tv and free wifi make it easy to crash here and feel right at home. There is also a kitchen you can use which is cool if you are there for a few days and want to buy something from the local market.
This boutique hotel  is a cool place to stay at, with it's natural bamboo structure outside it's hard to miss. I like the wooden furniture inside as well as the fun decorations and paintings on the wall, it's really cute and reasonably priced. There is quite a young crowd of people staying here.
I stayed 7 nights here and was super happy about the location, it's walking distance to Berawa Beach, the supermarket Canggu Deli is not far and there are cool cafés around like Ruko, Cinta and Milk & Madu, which are actually walkable! Always good to have a scooter here though to get to Batu Bolong and Echo Beach but could walk there along the beach too. Nice view from the rooftop pool too!
My lovely friend Jayne stayed at the funky open air Frii Bali Hotel in Echo Beach and we caught several times over food (of course!) and she told me she really liked Frii Hotel and though it was very good value for money.
It's only 5 minutes from the beach and had a rooftop restaurant as well as a pool downstairs. Some rooms lead directly out to the pool, nice! Many surfers and also solo travellers are staying here.
Very laid-back and away from the tourist crowds you'll find Kirana Hotel right near Batu Bolong Beach, perfect if you want to be close to the beach and popular surf breaks. There is an infinity pool, restaurant, gym and yoga deck as well as a sunset terrace. The balinese staff is very friendly and accommodating.
I loved every minute in Canggu and I surely know I will be back. It's incredible seeing it change so fast and I do hope it will stay this small surfy town for a long time to come!
Have you been to Canggu? Or are you planning to go?
I would love to hear about your favourite places!