Don't you love that moment, when nature, architecture, and atmosphere combine to create a perfect, awe-inspiring moment?
A visit to Thailand surely will linger long in your memory, with its abundance of breathtaking scenery and superb hospitality. Take time to explore and take in the magic to discover your own personal, remarkable view of this incredible country.
Here are a few favourite spots to get you started and whet your appetite for wanderlust.
Whether you're a first time visitor or a frequent returnee, Thailand's northern mountains never fail to inspire and impress. Take the road to Pai from Chaing Mai and you'll be overwhelmed by multiple spots of incredible natural beauty.
This twisting, turning, winding road meanders, climbs and falls on a dizzying 762 bend spectacle of kaleidoscopic splendour. The rolling hills and lush valleys offer so many countless points to stop and breathe in the rich wonder. Discover more about the north in the northern Thailand blog.
Thailand's northeast is the most untouched region of this much-visited country and offers a lot to those looking for a less travelled path. Sam Phan Bok, on the Laos border, is not quite the original Grand Canyon, but steep rock walls offer some explanation as to why it is referred to as the "Thai Grand Canyon".
When the Mekong recedes – it's the sculpted and polished rock formations which captivate visitors. It's easy to lose yourself in this moon surface landscape that stretches on for miles. Take time for an extensive boat trip along the river to experience the canyon from the languid Mekong itself and find a moment that few foreign visitors have experienced.
Hidden away on Koh Samui are dozens of walking paths, beaten through the jungle long before the roads came. A few were co-opted for vehicle transport but many remain, allowing viewpoints and serene moments that most visiting holidaymakers will never discover.
These trails offer the most gorgeous views over the island, across to Koh Phangan, and out to the islands of the Anthong Marine Park. Walking the old local Koh Samui trails offers unparalleled views, a sense of going back in time and a chance to pause and reflect. For those who desire even more, the Ocean view villas on Koh Samui offer fabulous views of the lush forests to neighbouring islands.
Can you be in two places at one time? The Tree House café in Prapadaeng says yes! Here mangroves, tranquillity – and the slow pace of rural Thailand exist, just 20 minutes from the rush of the Thai capital city.
Across the Chao Praya River, Prapadaeng is the 'Green Lung' of Bangkok enjoying its bucolic setting. The Tree House cafe provides a quick escape from traffic, neon, and noise; it returns you to nature in the blink of an eye.
The deep south of Thailand is often overlooked by tourists, but it features many appealing locations and is full of cultural charm and hospitality. The impressive Songkhla Central Mosque, the largest in Thailand, is set in a peaceful location surrounded by open fields.
Approach the mosque from along the waterway or from its back steps to view the distant hills and really appreciate its splendour. As fewer tourists venture here, you have a greater sense of space and perspective of architecture within nature.
Not all Thailand's Andaman Sea Islands have been subject to mass tourism. The tranquil beauty of Koh Bulon Lae has managed to retain an authentic sense of traditional Thailand.
It takes less than 15 minutes to walk across this cosy little island. No loud parties or techno are revelling here, just the sound of the waves, squeaky white sands, and the captivating Chao Lae, – "Thai sea people" – to look upon.
The best kept national parks of Thailand are a wonder of nature. Khao Sok National Park is one of the lushest, verdant rainforests and a must for nature lovers.
The pinnacle of Khao Sok's powers are encapsulated at the stunningly beautiful Cheow Larn Lake. Floating through the quiet waters at sunrise, watching the mists lift from the limestone cliffs belongs in the realms of the supernatural.
Far, far north Thailand's once-remote Golden Triangle has long passed the days when the region was a no-go area. The Golden Triangle is now famous for its spectacular scenery as the mighty Mekong River runs lazily through the landscape.
Three countries meet here, so sit and gaze over the misty waters of exotic Myanmar and sleepy Laos. Among the hilltop temples, small villages, hidden caves, and gleaming Buddha statues find your place for some peaceful meditation and introspection.
Koh Kood manages to keep its island soul while some others seem to have lost theirs through mass tourism. The island is the epitome of Thai beach life; each one is a stunning combination of the clearest aquamarine sea and the softest powder white sand.
With nothing to do but enjoy the tranquil pace and wait for the sun to set, Koh Kood is a dream. Take your moment at any sandy paradise on Koh Kood and feel the waves of serenity wash over you.
Thailand is a land of temples and saffron-robed monks. A trip here is not complete without taking a moment to enjoy their allure. The UNESCO World Heritage city of Sukhothai and all its delightful rich historical sites is a tribute to the ancient temple architects and captures the Golden Age period of the Thai empire.
Get here early in the morning and cycle alone through the Sukhothai and Si Satchanalai Historical Parks to discover their charms.
If you are looking for the ultimate in views for a romantic photo shoot with your loved one, check out more incredible romantic photo spots in Thailand.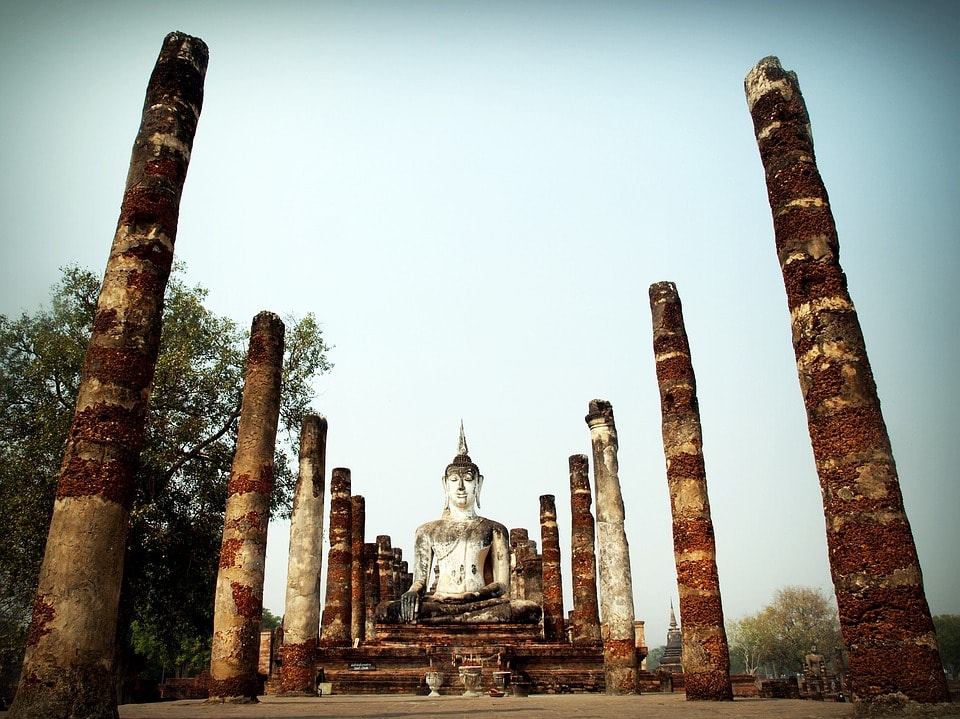 Are you dreaming of visiting Thailand?
This post is brought to you in collaboration with Eats and Retreats.