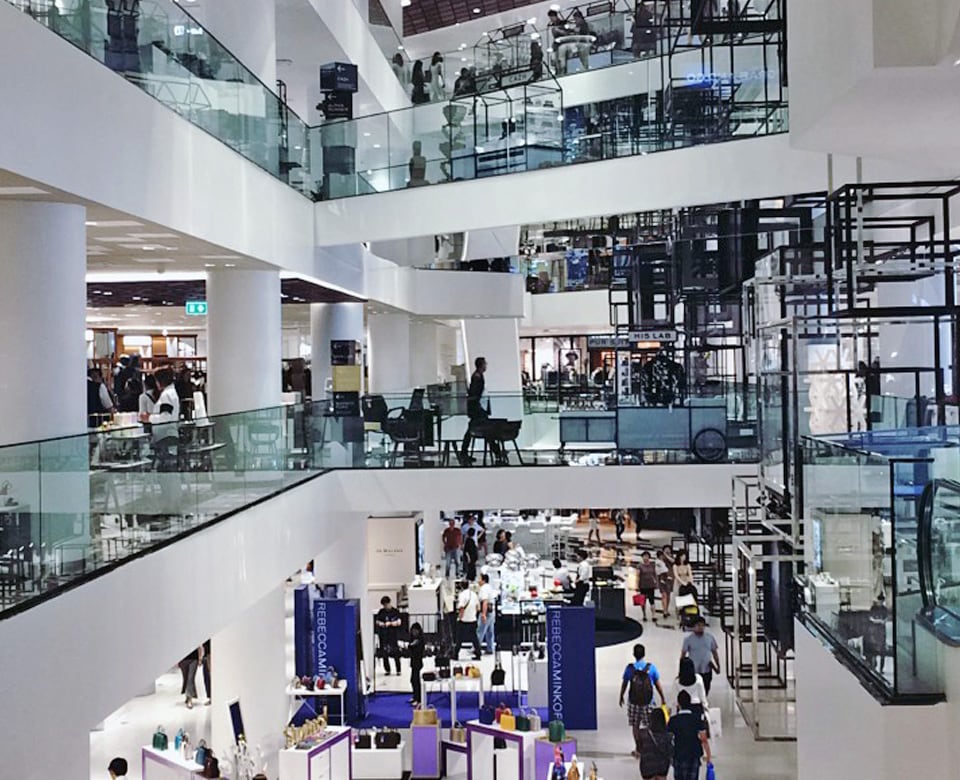 You better plan ahead for extra baggage during your next flight to Thailand, you're going to need it. Imagining a trip to Bangkok without picturing endless shopping is like a birthday party without cake.
If you're set on just window shopping, you might just change your mind especially with all the bargain prices you can find. But if you don't mind spending a bit of extra cash, Bangkok also has a lot of luxury shopping malls you can check out.
It's not just the price range that differs around here but the actual experience and the different designs and layouts of the malls that you'll find in the shopping capital of Thailand. Bangkok is like a maze of shopping centres so good thing you'll have me guide you through with this ultimate guide on where to shop in Bangkok.
Polish your haggling skills, we're going shopping!
What Should You Buy In Bangkok?
So what's there to shop that you cannot get elsewhere you wonder? From decorative to useful, quaint to intricate, affordable to pricey, whether you're looking to save or splurge, Bangkok shopping has it all.
A few ideas on what to buy in Bangkok are traditional products like teakwood carvings as decorations or as kitchenware, gemstones like rubies and sapphires, intricately designed jewellery, lacquer ware, ceramics, and authentic antiques.
You can also get a custom-made dress, shirt and pretty much any other clothes at one of the many tailors in the city. Normally, you'd bring your own design drawn up on a piece of paper or a photo and they will replicate anything for you in no time!
And you could even score some luxury items. Designer handbags, shoes, clothes, name it, Bangkoks shopping scene's got it. Or go haggle for clothes and souvenirs at one of the many markets happening day and night all around in town.
Splurge At One Of The Fancy Shopping Malls
Siam Paragon
Let's start big, shall we? Siam Paragon Mall is one of the largest malls in all of Asia. Its department store alone covers 50,000 square metres. And over 250 retail shops comprise of another 40,000 square metres of glorious shopping space.
But what brought Siam Paragon at the top of this list is its reputation as the place to be when you're out shopping for international high-end brands. Chanel, Jimmy Choo, Versace, Dolce & Gabbana, Hermes are just a few. Siam Paragon also hosts a few car showrooms namely Ferrari, Lamborghini, Maserati, BMW, Aston Martin and Lotus. For us nomads hunting for coworking spaces, there is actually a pretty good alternative at this mall. Head to the True Café on the third floor for a fresh coffee and same fast wifi.
At the ground floor, Siam Paragon is covered with restaurants and food courts. This is one of my favourite places to grab a bite to eat when shopping around here. Thai and international food from all corners of the globe can be found here, you won't go hungry. And if you want to submerge after lunch, go ahead, the fish at Sea Life located just underground of the mall are waiting for you!
Terminal 21
Just by the name itself, you might have guessed that Terminal 21 has a certain theme to it and what else would it be but everything related to travel!
The design starting from the airport-esque feel of the glass and steel front to the electronic display boards to the Golden Gate Bridge spanning across an entire floor, Terminal 21 truly resonates the traveller spirit in you. Each floor resembles a famous world city. There's Tokyo City, Carnaby Street in London, an Istanbul Souk, and Fisherman's Wharf in San Francisco. Here you can shop anything from clothes to accessories to home décor.
Central World Siam
If you think Siam Paragon is gargantuan, wait till you know about Central World right next to Siam Paragon. Overall, its area size is a whopping 830,000 square metres dedicated to the retail shops, restaurants and entertainment. This makes Central World the largest shopping mall in the country and one of the world's biggest.
With a size this big, one only ought to say that it has everything from luxury boutiques, the newest technology, gourmet restaurants, entertaiment and so much more. It also houses an ice-skating rink and an outdoor venue for big events such as Bangkok's New Year countdown celebration. I actually stood here celebrating the New Year in 2014, what an experience!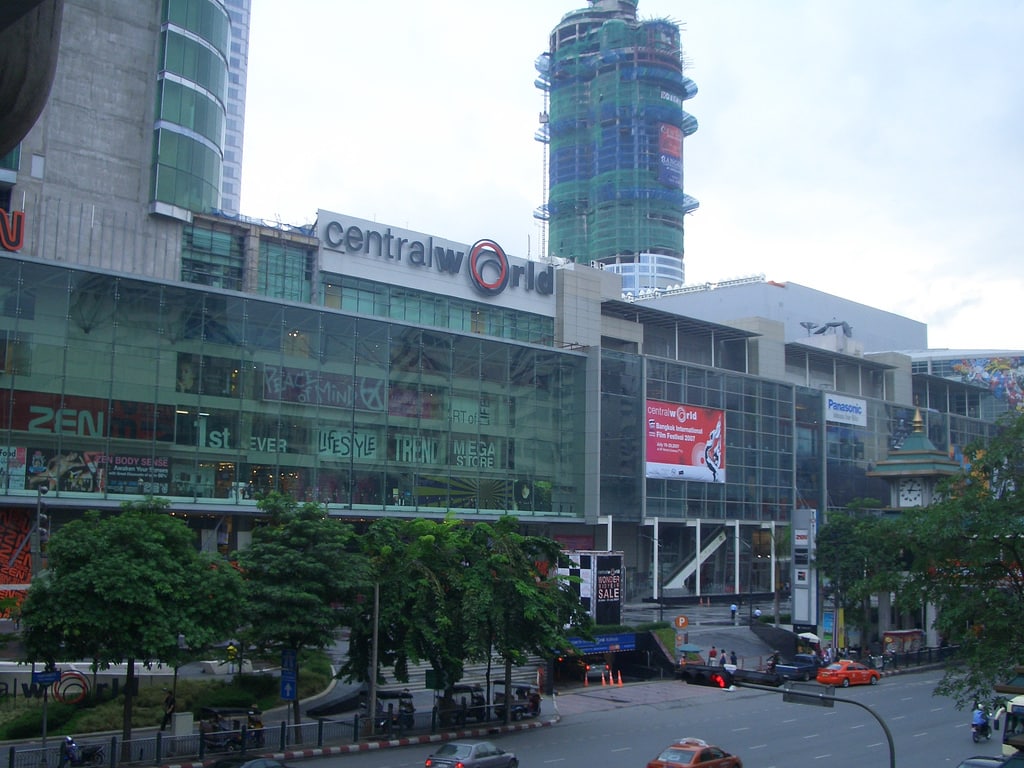 Central Embassy Shopping Mall
A short etymology on the name is that this mall stands where the British Embassy was located in the early days and therefore has given the shopping mall its name Central Embassy. But enough talk of history, let's fast forward the mall's present.
Central Embassy emphasises its classy touch through a white and neat minimalist interior and futuristic design. It is actually dubbed as the most luxurious mall in Bangkok for its expansive designer boutiques, fine-dining restaurants offering world-class cuisine, high-end movie theatres and a planned 6-star hotel.
Your luxury shopping feel starts as you enter and see the swanky displays of Gucci, Givency, Prada, Vivienne Westwood, Michael Kors and so much more.
Siam Center
Siam Center's design is a clever marriage between nature and technology. Who would've guessed wooden panels and LED screens would look so good together?
Here you really must check out all the unusual shop designs! Siam Center houses international brands such as the largest Forever 21, Nike, Steve Maddex, Levis and more. It also boasts national Thai labels such as Jaspal, Baking Soda, Kloset and Greyhound Original.
Gaysorn Village
If you have your eye on everything high class, luxurious, and upscale, Gaysorn Village is the shopping mall in Bangkok to go to. The marble and chrome interiors reeks nothing but sophistication and class. To put it simply, Gaysorn is where the rich and famous head to for their fill on fashion and fun. In this exclusive shopping centre, an impulse of shoppers isn't the normal case here but just a few elite members out on a splurge.
Other than the international brands such as Ermenegildo Zegna, Louis Vuitton, and Hugo Boss, another note-worthy feature here is its innovative 'Purely Gaysorn' campaign that aims to offer a gold standard lifestyle shopping with its new Lifestyle Consultant team that exclusively helps you out on your style, parties, and gifts.
With only a few shoppers at a time, the shopping experience here is truly relaxed. Expect only up-market fashion brands, jewellers, and the like when you enter Gaysorn Village.
Emporium Bangkok
Continuing Gaysorn Village's sophistication is Emporium Bangkok and its sleek and refined shopping experience. Being welcomed by white-uniformed guards, stepping on to the mall's marble floors, seeing the white and gold accents with the soft jazz tunes from a live piano, you'll definitely know at the instant that the Emporium is on a different class on its own.
The world-class designer brands you can shop from are Dior, Cartier, Mont Blanc and Ck by Calvin Klein, just to name a few. If you're a budding or aspiring interior designer, you must head up to The Living Gallery on the 4th floor where you can stare in awe at the sparkling chandeliers, baroque lamps, Victorian bathtubs and so much more.
Em Quartier
Em Quartier's design is impressive to say the least. It features a futuristic style with its expansive glass panels. Its green area that even has a waterfall is the perfect spot for your next Instagram post.
It's not just impressive in its design but also in its array of designer brands with the likes of Chanel, Prada and Jimmy Choo. There are over 400 labels including Thai brands laid out in more than 4,000 square metres of retail space.
MBK Center
MBK Center started its legendary shopping space way back in 1986. There are a mind-boggling 2,000 shops in this 8-storey building.
Mind you, this is not your up-class mall but a bargain centre with sales are running all year round. With the cheap prices of goods, especially tech ones, do keep in mind that branded items are most likely imitations. So if you don't mind knockoff merchandise, this is the place to shop.
There is a great food court on the fifth floor called THE FIFTH food avenue which I always really used to like and frequent when I am back in Bangkok.
Pantip Plaza
Pantip Plaza is most famous for its IT goods and infamous for less reputable stuff. If you're into electronics shopping, Pantip Plaza has so many options. From brand-new computers and tech accessories to pre-loved equipment, you can find it here in the smaller stores or head to the more organised IT City on the 5th floor.
Truth be told, some of the stores offer questionable goods but if you are looking for anything IT, you will surely make a strike here.
Go For A Different Shopping Experience In Bangkok
Siam Discovery
Going back to the chic and classy, Siam Discovery adds to the list with its unique futuristic shopping concept, and it is in my opinion probably one of the best malls in Bangkok. By unique, I mean that their fashion items are laid out like you are in someones home. It really makes for a leisurely shopping experience that's as comfy as going through your own closet. It's so much into the homey vibe that the cash registers are discreetly hidden so you'd have to ask the attendants.
There are also branded boutiques such as Comme des Garcons, Diesel, and North Face. Another reason to check out Siam Discovery is to visit Madame Tussauds Wax Museum on the 6th floor.
Reopened after a major refurbishment, Siam Discovery now boasts with six differently themed floors called 'Labs', ranging from Her to His floor to a level full with Street style clothing, a creative & play Lab.
Lastly, the 4th floor houses the Digital Lab which also has a coworking space. They usually have a free day pass if you want to stop by and get some work done using high speed Internet. There is also a nice relax area at the back of the coworking space with arm chairs and foot stools with a really great view of Bangkok!
Platinum Fashion Mall
Platinum Fashion Mall is another place for cheap shopping in Bangkok. It's like an air-conditioned version of a night market. There are over 1,300 shops crammed in this 4-storey mall. Platinum Fashion Mall caters mostly to wholesale shoppers that can get huge discounts.
There are other interesting niche fashion stores here such as for costumes, plus-size clothes, chiffon dresses, and cowboy outfits. Quick tip: purchase 3 items or more at one place and haggle to bring down the prices from 10-30% off.
Asiatique The Riverfront
This one is literally a night bazaar in a mall. Asiatique The Riverfront opens at 5:00PM wherein there are over 1,500 shops under the warehouse-like complex.
Expect a beehive of activity because this shopping centre is a favourite of both locals and tourists. Other than the affordable shopping you can get here, there are also some entertainment shows such as the Calypso ladyboy cabaret and a That puppet performance.
Chatuchak Market
Without a doubt, the most famous Bangkok market is the Chatuchak weekend market. This is the world's largest flea market with row upon row of shops and that's more than 10,000 stalls to see in this 35-acre area. This is definitely a hustle and bustle area with over 250,000 people doing shopping.
The maze of stalls offers a selection of funky fashion, fabric and textiles, books, unique lamps, opium pipes, antiques, plants, pets, and a whole dozen more. Because of the rock-bottom prices, the Chatuchak Market is a haven for wholesalers and traders.
Bangkok shopping can be likened to a carnival. It's alive with activity. There is so much to see. There's the normal fun and there's the weirder counterpart.
Whatever your choice in shopping, Bangkok malls and markets will surely satisfy you. What's more is that you can buy things here at a much lesser price than you will when it is exported to other countries. There are so many shops to choose from whether you're looking for a bargain or for haute couture.
Bring on the charm and your supreme haggling ability and conquer the Bangkok shopping scene.
Here Are All The Places Mentioned In The Bangkok Shopping Guide:
Stay Right In The Heart Of Bangkok's Shopping Area Sukhumvit
So all along Sukhumvit is where it's at in terms of shopping. If you want to stay nearby, there is this trendy hotel called Siam@Siam Design Hotel located in walking distance to MBK Center, Siam Center, Siam Paragon, Central World, and Siam Square and even Gaysorn Village further down the road. The BTS station National Stadium is also just around the corner and will take you easily to the other shopping malls and markets mentioned.
Or you simply take an Uber as they are so cheap in Bangkok!
The hotel has a gym as well as a beautiful pool overlooking the rooftops of Bangkok to chill and relax after a full day of shopping. Wifi in all rooms, lovely views and a beautifully delicious breakfast buffet in the morning really make it worth-while staying here!
Have you gone on a shopping spree in Bangkok?