The Sydney Harbour Bridge. Sydney Opera House. Bondi Beach. All these destinations are a must-see for anyone visiting Sydney. The thing about Sydney is that secretly, it has somehow managed to maintain unspoiled beaches and beautiful public gardens, which not many travellers get to visit.
The thing about Sydney is that secretly, it has somehow managed to maintain unspoiled beaches and beautiful public gardens, which not many travellers get to visit.
While the popular spots are always filled with people, under the radar spots and quietly concealed treasures are so much more worth discovering, and revisiting.
Especially if you have visited Sydney a few times already, you will want to get off the beaten track and not take the 100th photo posing in front of the Opera House. Because really, it still looks the same. (And yes, I do love it too.)
Sydney is brimming with so much diversity, it would be a shame to deny yourself the call of a different adventure.
Here's my list of the best hidden places in Sydney you may not have heard of to date!
Relax at Wendy Whiteley's Secret Garden
When Wendy Whiteley lost her husband in 1992, instead of throwing herself into wallowing and grief, she decided to develop the piece of land she was left with and turned it into a beautiful and lush garden which has been attracting local and foreign travelers to the area.
The creative person that she was, Wendy's passion project is driven by aesthetics, and though initially, she admitted to knowing very little about horticulture when she started, Wendy trusted her instinct.
It also helped that with the symbiotic relationship between the plants, gardeners, and herself, emerged a panoply of native and exotic shrubs, towering trees and tasteful herbs, not to mention a collection of birdlife that had grown attracted to the Garden. Volunteer gardeners coordinated by the Lavender Bay precinct help maintain this Secret Garden.
The Secret Garden today is a lovely picnic site and a beautiful symbol of love and rebirth. With many tables and chairs dotted throughout the ground, Wendy and her team feel that the best way to enjoy the area is to bring food and refreshments of your choice, and soak in as much of nature as you can, before heading back to the business of the city.
There is no cafe or restaurant on site, however, there are nearby facilities for you to check out, such as the Kirribilli Club found just across, which is run by a non-profit, as well as pubs and cafes about 5-10 minutes away.
Though considered one of the Secret Places in Sydney, Wendy Whiteley's Secret Garden has already received its fair share of visitors who all come home with lovely stories to tell about their visit. Still, Wendy and her team believe it helps to keep the secrecy of the place.
You should be aware that there is no directional street signage to Wendy's Secret Garden. Instead, plan ahead and research on routes to the garden, a quick search on Google Maps should get you the desired results.
Swing at Dudley Page Reserve
Offering a great view of Sydney, Dudley Page Reserve is a public park and a famous New Year's Eve spot to watch the fireworks. Locals and travellers alike head to this hidden gem of a spot to be entertained by the vast view of the Sydney Harbour from this park.
But come here on any other day throughout the year except NYE and the park is pretty much empty and a great place to take yourself with your camera. Watch the world go by, or well, the boats in the harbour, as you swing on one of the kids swings. Age certainly doesn't matter if you're out to have fun.
So if a relaxing weekend adventure is your thing, then Dudley Page Reserve Park is definitely worth considering. From here it's also a nice little walk down to Bondi Beach to catch some lunch.
Picnic at the Paddington Reservoir Gardens
There is certainly no shortage of beautiful parks in Sydney, but this award-winning venue is even more admirable because of the story of its creation. A vital source of water supply in the 19th century, the Paddington Reservoir located in East Sydney went through a couple of changes after it stopped supplying water in 1899.
From being a garage to a petrol station, and finally being heritage-listed by the state, it became known since 2009, as one of Sydney's hidden gems, for the immaculate garden that it is now.
The story of the Paddington Reservoir Gardens is as delightful as it is surprising. The park still bears as much of the reservoir's original framework as its developers could possibly maintain, adding modern touches with its re-imagined spaces and raised walkways.
In 2009, the park's design won the Australian Award for Urban Design, and has since been attracting not just regular visitors looking for a place of relaxation, but also artists looking into venues for their art installations, and contemporaries in the fashion industry, presenting their shows and creations on the site. The property is easily accessible by car or public transport, and is just meters away from the city's Oxford Street.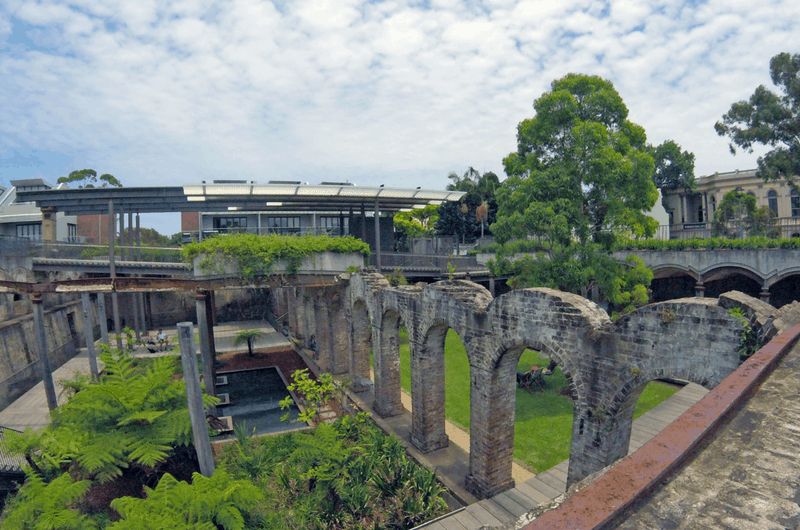 Stay At Primus Hotel Sydney
On my most recent visit to Sydney, I stayed at Primus Hotel which is located on Pitt Street, right in the CBD and within a stone's throw to the beautiful Queen Victoria Building, Pitt Street Mall for a shopping fix and Darling Harbour to chill by the water with a drink.
Opened in December 2015, Primus Hotel occupies the former Sydney Water Board headquarters from the 1930's. I loved the big rooms which all have absolutely gorgeous art deco design, iPod docks and free wifi throughout.
My room, a Deluxe Suite, had a beautiful king bed plus a separate room with a sitting area with sofas, LCD TV and big windows. The room had a large soaking bath as well, so relaxing!
In the evening, it was time to have a cocktail at the stylish lobby bar. I also got the try the delicious charcuterie board. If you are one for a High Tea, Primus Hotel offers that now as well. And then, if you are ready for dinner, head over to the adjoining restaurant The Wilmot. Order your meal with an accompanying drink from the extensive selection of local craft beers and imported, vintage and international wines.
One highlight you cannot miss is up on the rooftop! Head upstairs to relax at the rooftop pool overlooking Sydney's skyscrapers or order a cocktail while the DJ spins some tunes on the weekend.
Lounge, cycle and run at Barangaroo Reserve
Beautifully designed spaces are all the rage now, and one which is worth discovering is Barangaroo Reserve. Only opened in September 2015, this site used to be a vacant wharf. Now Barangaroo Reserve is both a park and an entertainment space that offers panoramic views of the Sydney Harbour.
You can enjoy a cozy picnic, with alcoholic drinks allowed, at the reserve. A food and retail precinct in the vicinity offers a great selection of food and drinks to choose from. To maximise the full potential of your mini-break, you may also want to consider pre-ordering an actual picnic to be served to you al fresco, with complete picnic equipment and picnic professionals at your service. Oh yesss, it's a thing, and it's called Pop-Up Picnic!
If your trip to the Barangaroo Reserve is more about outdoor activities and lounging. The headland park itself has over 75,000 native trees planted in the reserve, is home to over 150 different bird species, including Australia's internationally recognised feathered creature, the Kookaburra.
Take a stroll, or better yet, go for a run across the park or cycle through the tranquil green and you will surely not feel like you are in the middle of a busy city like Sydney.
Explore around Robertsons Point Lighthouse and lookout
Lighthouses are fascinating, no? Perhaps it's the idea that the light serves travelers at sea, and is a symbolic representation that there is something you can always come home to.
The Robertsons Point Lighthouse is an integral component of Port Sydney's navigational system, eight meters high and was built in 1909. It's pretty to look at and get up close too!
The harbourside suburb on the lower North Shore of Sydney that is called Cremorne Point, is located six kilometers from the CBD, Cremorne Point boasts native bushland and paths winding through the green which people tackle for long coastal walks while enjoying the view of the Sydney Harbour.
On the western side of Cremorne Point, a unique harbourside pool called MacCallum offers superb views of the Sydney Harbour and a considerably nice sunbathing spot. Originally set out to be a rock pool created by local residents in the 1920's, the Maccallum Pool boasts of heritage and character with its restored architectural style.
Swin at Mahon Pool in Maroubra
There is no shortage of fantastic beaches in Sydney. It is, after all, known for great surf spots and salty ocean pools.
One particular spot I really like is Maroubra. When everyone goes to Bondi and Bronte pools, this one is truly one of the best hidden places in Sydney which has managed to maintain a low profile of visitors. While being a perfect swimming destination, it's hidden further away from the busy city. The blue-green water, waves splashing and the view from the beach-front is a truly relaxing retreat.
The Mahon Pool is sandwiched between the Sydney sandstone and the sea and is free to use and open pretty much all year round. The rock formations that make up the rustic charm of the pool have some great nooks and crannies which created a wide ocean pool.
There is also an outdoor gym, skate park, and shops along the beach, as well as several restaurants and cafés to choose from down the beach, each offering unique dining experiences and varying cuisines.
Although there are no campsites in the immediate area, when planning to stay overnight at the Maroubra Beach, you can choose to camp at the Sheralee Caravan Park in Rockdale, an easy 20-minute drive from Maroubra.
Grounds of Alexandria sustainable garden and café
Arrive here and you know your visit is going to have character. Opened in April 2012, the Grounds of Alexandria spans approximately an acre within the inner west city fringe suburb of Alexandria. It's a welcoming space to meet friends, boasts of several café spaces, an artisan bakery, and a permaculture garden of heirloom vegetables, herbs, fruit and flowers, along with a small animal farm. Entrepreneurs Ramzey Choker and Jack Hanna built the Grounds of Alexandria with the philosophy of creating experiences for communities and brought along with them, a string of like-minded establishments who all share a passion for creating unique and innovative products.
Truly one of Sydney's hidden gems, the Grounds of Alexandria serves great coffee and wholesome food choices. The trained baristas and experienced chefs brew drinks and create edible photo-worthy masterpieces which have generated a buzz on social media and attract a great crowd of people weekdays and weekends.
Over 80 stalls on site offer interesting custom creations and gourmet food products, all local, which are sold alternately weekly, and have already gained a following, with the biggest chunk made up of families. The sustainable garden and animal farm are also reasons why people frequent the Grounds of Alexandria. Little kids enjoy watching the goats, ponies, and chickens, while other families look around the garden or sit around the fountain to relax. With its vast space and interesting approach to gatherings, the Grounds of Alexandria has also turned into a popular venue for weddings and celebrations.
Island activities around Bare Island in La Perouse
Bare Island is a popular destination for fishing, sun-baking and snorkeling. Located at the south end of Anzac Parade, just off the coast of La Perouse in Botany Bay, Bare Island is a 30-minute drive from the Sydney CBD making it an easily-accessible weekend adventure spot.
Also a popular diving spot, you can enjoy the abundance of aquatic life within the bay and around the island's rock and reef systems. The swelling tides and strong winds, however, are conditions to be prepared for when visiting Bare Island.
Another noteworthy cause to visit Bare Island is the regular Aboriginal Workshop and the markets organised by the local communities. On the first Sunday of every month, a workshop that teaches basket-weaving, shell work, release fishing and spear making are attended by thousands of people. Meanwhile, food stalls, indigenous art and jewellery are sold at the market four times a year.
Being the cosmopolitan city that it is, Sydney is a bustling place with a diverse population and a mix of vibrant and natural charm.
So if you're looking to get off the beaten path, this list is your best bet to the quirky and often surprising destinations that Sydney has on offer. These places locals love going to are the kind of secret spots in Sydney that help give the city its unique flavour. It's time to step out of your comfort zone, explore and experience the real Sydney, an eclectic mix of nature, heritage, and sustainable modernity.