If I had one thing to say about my recent visit to Sydney: You can't visit this city without swinging by beautiful Darling Harbour. This place is mix of leisure and entertainment precinct as it is frequently visited by travellers and locals alike. Also, if you are coming to the city to attend a convention or exhibition, this is where you will be headed. With a variety of restaurants, bar, shops and recreational facilities, the choice of things to do around here is absolutely yours to make.
At night, Darling Harbour becomes equally interesting and inviting as the place gets a more chilled out vibe than Circular Quay. As the harbour-side restaurants and clubs fill up with people you can alternatively relax and unwind around the water or take a stroll.
The area of Darling Harbour is pedestrian-friendly and therefore best explored by foot. Directional signs to all major sights are scattered around, and there are maps available at the Sydney Visitor's Centre. Its friendly staff can offer assistance, provide directions, and even book tours, accommodation, and tickets to attractions around Darling Harbour.
Getting to Darling Harbour
There are several ways to get to Darling Harbour. You can catch a ferry and alight at King Street Wharf which is close to the Sydney Aquarium and the King Street Wharf establishments, or at the Pyrmont Bay Wharf to be closer to the Sydney Convention Centre and Harbourside shops.
Via train, get off at the Town Hall Station and make an exit towards Bathurst Street. From here it's a short downhill walk that will take you directly to the Darling Quarter and Tumbalong Park.
The Lightrail is another option as it travels between Central Station in the CBD and Lilyfield in the Inner West, and makes stops at a number of Darling Harbour stations.
Alternatively, take a bus that passes through Sydneys CBD, either along Elizabeth, Castlereagh, George, or York Street and alight at the Market, Park, Druitt, Bathurst, or Liverpool Street.
Taxi ranks are also positioned at Wheat Road, near the Convention Centre. If you choose to drive, Darling Quarter offers convenient parking accessible from Harbour Street. Opting to take a bicycle instead? Darling Harbour is very bike-friendly with several bike racks located around the precinct.
Where to stay in Darling Harbour
Possibly the best place to stay in proximity to the heart of city and only a stones-throw away from the Darling Harbour precinct is the PARKROYAL Darling Harbour. Offering premium accommodation, all rooms are modern and feature the latest technology to provide for a comfortable stay.
I had the pleasure of staying in one of their Darling Harbour rooms with a big window overlooking the beautiful Sydney harbour. When I walked into the room I was greeted with cookies in Sydney Opera House shape – a moment when you definitely know you have landed in Sydney! In the morning, I was down early to take my breakfast from the many choices of the buffet at Barkers Restaurant. From Bircher Musli to freshly cooked Eggs Benedict, pastries, fresh juice, coffee and much more, the variety for a breakfast buffet is really unbeatable.
If you are booked on the Club Floors, you additionally have access to the PARKROYAL Club Lounge, including priority check-in and checkout, complimentary laundry services, high speed Internet access and regular refreshments throughout the day as well as Twilight drinks & canapés from 5:30pm to 7:00pm.
Next door, adjacent to the hotel you will find the modern, award-winning ABODE Bistro & Bar with its elegant interiors. Come for lunch or dinner featuring fresh and seasonal flavours.
You can also opt for a delicious High Tea boasting with a selection of sweet and savoury bites as well as a freshly brewed tea of course. If you want to level up, totally go for the Chocolate High Tea (which is totally on my list for my next visit!).
Now that you know where to stay and how to get to Darling Harbour, it's about time you start exploring!
Here are my 9 things you cannot miss in Darling Harbour.
Relax at the Chinese Garden of Friendship
It's amazing how a few steps into the green can take you miles away from the busy city life. This place is a calming retreat and absolutely wonderful to explore. Towering weeping willows that sway to the breeze, and a beautiful mix of flora and fauna fill up the garden. Designed by Sydney's sister city, Guangzhou, the Garden officially opened in 1988 as part of Sydney's bicentennial celebrations, with it's name symbolising the bond established between China and Australia.
The traditional Chinese style of the garden is truly special. Each plant, flower and tree maintains the colourful and inviting atmosphere inside. The garden was designed by Chinese landscape architects and gardeners based on the Taoist principles of "yin" (calmness) and "yang" (activity). Behind the orange gates that lead to the Chinese Garden of Friendship, you are welcomed by two lion statues which are guarding the garden.
A cool central lagoon with lotus plants and Chinese bonsai add to the garden's unique character. Koi fish swim in serenity of the lagoon, birds fly around chirping among the trees and a water dragon peacefully lounges in the sun. Walking around, you can't help but wonder what other mystical creatures could have set up camp here and called the garden their home. An interesting fact about the garden is that you cannot see the entire garden from any point within them.
An admission fee of $3-6 allows you to bask in the tranquil serenity inside the garden. I strongly suggest you allocate at least an hour for a leisurely stroll. Regular activities and events are offered to the Garden's visitors too.
With daily life robbing us off quality zen moments these days, a visit to this Darling Harbour gem, is worth spending your time to relax and remain at ease. The Chinese Garden of Friendship is one of the few public and traditional Chinese gardens outside China that offers a rare insight into Chinese heritage and culture. Visit once, and you may want to return over and over again.
Shop at Harbourside Shopping Center
Only a short walk from the city center, and conveniently located next door to the International Convention Center with magnificent views of the city's skyline, is the Harbourside Shopping Center, providing for a unique dining, leisure and shopping experience.
The retail stores inside offer a great selection of souvenirs and exclusive Australian gifts to bring home to family and friends. The fashion and gift-shopping space of Harbourside is pretty extensive, with a wide-range of the latest brands on offer. Harbourside's dining precent has all-day dining, but boasts of its late night dining offers, not to mention a stunning view of the city skyline at night.
Easily accessible, a taxi rank can be found at the entrance of Harbourside, as well as a light rail in its doorstep, a marina for ferry and private boats, and an extensive car park facility under the Novotel adjacent to the center.
Eat at Cockle Bay Wharf and King Street Wharf
What would Australia be without fresh seafood?
At Cockle Bay Wharf all you have to worry about is the choices between todays catch, a bowl of al dente pasta in an authentic Italian restaurant or a cocktail at one of the cosmopolitan nightclubs or bars.
The King Street Wharf, a former marine industrial area, is situated on Lime Street and provides something for all you hard working people who like to play hard too. The area proudly houses a great selection of healthy food choices that go beyond your typical fast food choices.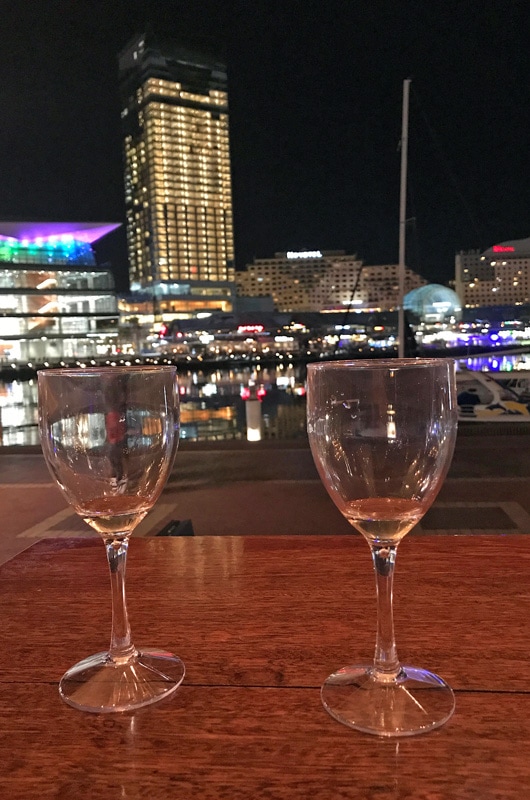 Get a snap with a superstar at Madama Tussauds Sydney
If a celebrity safari is more your thing, then definitely pay a visit to Madame Tussauds and satisfy your craving through "VIP access" to the glamorous world of superstardom.
70 of the world's best known personalities, Australia's very own celebrities, movie stars and historical figures can be seen here, all in wax form. Get to experience rubbing elbows with powerful political leaders like Barrack Obama, test your sports skills against famous athletes like Layne Beachley, sing with The Beatles, and pose, pose, pose next to A-list actors Leonardo DiCaprio, Hugh Jackman, and Brad Pitt.
Wander the streets of Barangaroo
Catching up on the current trend? The Streets of Barangaroo, also known simply as The Streets, is a new creative and evolving urban space housing a community of restaurants with unique concepts, delivered by some of Australia's best chefs and sommeliers. Casual eateries and waterfront restaurants alike have been welcoming a growing throng of visitors, tempting their tastebuds with unique tastes.
A hand-picked collective of stores selling local and internationally sourced fashion and apparel, accessories and homewares are also showcased around here.
Take in the hustle bustle at Tumbalong Park
Tumbalong Park is boasting 5 hectares of park filled with kids play areas, an extensive network of ornate water features as well as a central grassed amphitheater. There is also a good variety of restaurants and cafes close by.
If, like me, your idea of fun means being able to chill out, a shaded area near the Water Screw is dedicated to our kind, where you can host a little picnic, or simply relax and people-watch.
The Tumbling Park is easily accessible by ferry which you can take at King Street Wharf or Pyrmont Bay Wharf. Paddy's Market light rail station is also closest to the park, and when getting there by car, there are parking stations nearby for your convenience.
People watch at Pyrmont Bridge
The Pyrmont Bridge is one of the world's oldest surviving, electrically-operated wingspan bridges. The current bridge opened in 1902, measuring 369 meters, replaced the initial bridge that began its operations in 1857.
Today, the Pyrmont Bridge is a key piece of engineering heritage. At the bridge's west end is a commemorative plaque from the Institution of Engineers Australia. The City of Sydney Port Walking Tour also begins at this State Heritage Registered bridge, a great addition to your list of things to do around Darling Harbour.
Spot Australian sea animals at Sea Life Aquarium
Sea Life Aquarium is well-known for its world's largest collection of Australian aquatic life which includes dugongs, penguins, turtles, sharks, rays and much more. Over 14 themed zones, you can explore over 13,000 aquatic animals from 700 different species.
These include a tropical Bay of Rays, the Discovery Rockpool, and the world's largest Great Barrier Reef display, which features The Glass Bottom Boat, a 20-minute behind-the-scenes tour of the huge Great Barrier Reef oceanarium. This gives you an incredible view of hundreds of tropical fish and other animals found on the real reef.
Not for the faint of heart, the Shark Walk features majestic sharks swimming over your head and a journey into the depths of the Shark Valley—home to skeletal whale remains and tumbled-down ruins of an ancient stone temple, with the largest variety of sharks and rays.
Visit the Star Casino in Pyrmont & eat at Sokyo Japanese
Adding to the roster of Darling Harbour attractions is The Star Casino in Pyrmont which proudly houses all-star chefs, restaurants, bars and an amazing nightclub.
An ultimate fine dining experience is the Sokyo Japanese restaurant, a culinary treat where the buzz of Tokyo meets the Sydney beat. World-famous Chef Chase Kojima brings to the table an impeccable union of traditional craftsmanship with a unique approach on contemporary flavours. Adding to the gastronomical offerings of Sokyo Japanese, a resident DJ spins some chilled out sounds. I still rave about the food and ambience of that place today, so if you're in the Darling Harbour area and are craving Japanese flavours, make sure to drop by Sokyo Japanese restaurant, you won't regret it!
Darling Harbour is a place that doesn't shy away from things to do. From tranquil gardens to a foodie heaven, it'll be up to you to choose your own adventure.