Being part of the European Union, the currency used in Portugal is the Euro which converts to US$ 1.09 as of May 8th 2017. All prices in this post are indicated in Euro and for one person except where indicated differently. You can always use XE Converter, a neat little app to check live conversion rates.
I have visited the following regions and cities: Porto, Viana do Castelo, Peneda-Gerês National Park, Guimarães, Douro Valley, Lisbon, Sintra, Ericeira and Peniche. Or put alternatively: pretty much anything North of Portugal's capital plus Lisbon itself.
Now, read on and be wowed by Portugal's prices, it certainly was veeery affordable!
How Much Does Transportation Cost In Portugal?
Inbound To And Outbound From Portugal
Flights from the main airports in Europe range from 80 € to pretty much open end. I have found the small outsourced airport Frankfurt Hahn to be fairly cheap with only 40 € one way including baggage fees. I like to use Momondo to compare flight rates across Europe.
However, if you happen to be in Spain already or plan to go there afterwards, there are cheaper options to travel to and from the most western country of Continental Europe. For example, book your journey from one of the many regular options via Blablacar from Spain to Portugal. It is around 70 € upwards from Barcelona to Porto, Lisbon or anything in between as well as about 30 to 50 € from Madrid or Sevilla to Porto or Lisbon.
Another option is going by coach. However, as a ticket from Lisbon to let's say Frankfurt (Main) in Germany is about 135 € and you will spend a day and a half on the bus, I would most definitely opt for a different way of travelling.
And lastly, the train. Being booked on an InterRail ticket you could hop on the train in Paris and go to Lisbon via Porto without switching trains. Careful though, even if you have chosen to travel with InterRail, you will have to pay an extra charge when going with the high-speed trains like the French TGV (3 to 22 € extra) or the Portuguese Alfa Pendular (additional 10 €) as well as the Portuguese IC (4 € extra).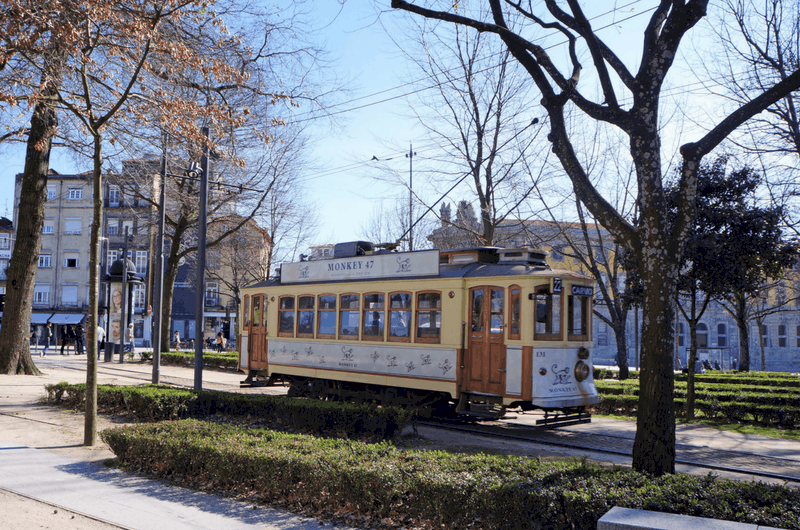 How Much To Pay For Public Transport In Portugal
In any of the cities, you pay about 2 € for a bus ticket. Outside the cities, I got the impression that people hardly ever use the bus and there are close to none around. If you need to get from A to B in the Portuguese hinterland, asking around at a local café surely is an option as Portuguese people are very friendly and someone will most likely help you out. In the more frequented seasons, there will always be other travellers around who you will be able to hitch a ride with.
Going by tram in Lisbon will cost you 2.90 € and just over 6 € for buying an all-day ticket.
Several routes connect Portugal's cities with each other. Again, the Alfa Pendular is the fastest option here with a rail network from Braga up North via Porto, Coimbra, Lisbon, Albufeira to Faro in the Southwest. If you have more time and less money, reserve a spot on the Portuguese IC (Intercidade) trains to get around.
To give you an idea of the prices:
Lisbon to Porto
32 € by Alfa Pendular
23 € by IC
Lisbon to Faro
24 € by Alfa Pendular
21 € by IC
The cost for fuel is comparable to other European countries, so it is not that cheap. Plus, using the highways you will have to pay quite a few tolls, which work out to not be cheap either. In the end, renting a campervan, for example from the guys from The Getaway Van, or car is a trade-off between cost for fuel and tolls on the one hand and saving money for accommodation on the other hand as you are able to sleep inside your vehicle.
Want to learn about the best way to do a 14-day road trip through Portugal? Have a look here.
Uber is not yet widespread across Portugal. I did it in Lisbon and that was reasonable with 13 € for about 16 km. Other than that, there are bikes, scooters and – not to forget – your feet to move around. Get your first ride with Uber for free when you sign up here!
How Much Does Accommodation Cost In Portugal?
Looking at accommodation, you will again have various options to choose from. Here are some of my recommendations.
How Much To Pay For Camping
There are different prices depending on the season you explore Portugal. These also depend on the campsite itself. Travelling through Portugal in the winter season, I never paid more than 4 € per night per person at a campsite, plus about 5 € for the campervan.
The most I had to pay was 28 € for two people and a van at Lisbon Camping. Heading into the summer season, it is even up to 48 € for two and for what you get not worth your money if you ask me. Lucky in Portugal you can do wild camping and pretty much stop and set yourself up anywhere. There are only very little areas where you are not allowed to do that, and they are all marked with signs.
Booking An Airbnb – Get $38 off your first booking with Airbnb through my link
If you're not into camping or feel like a nice comfy bed for a change, Airbnb surely is a great option. Booking yourselves into an Airbnb ranges from 20 € per night for a room for 2 in Porto and Lisbon, prices upwards pretty much open end depending on your fanciness.
Of course, the closer to the city centre, the more expensive they come. Make sure you book your Airbnb as early as possible especially in summer as rooms are booked out fast.
What You Pay For Hostels Or Hotels
All throughout Europe, I am a big fan of comparing room rates on Booking.com, as the variety is huge and I have never been disappointed as reviews seem accurate and you always know what to expect.
Travelling Portugal and not yet sure what hotels or hostels to book? Check out my Portugal itinerary to get an idea of the route and places worth visiting and start planning this way.

Staying For Free In Portugal
My all-time favourite: Housesitting. I can't say it often enough, but who wouldn't want to explore a country by staying in a nice and cozy home with sweet and furry company? It's the absolute best!! I have been using the website Trusted Housesitters for over 2 years now, sitted some epic places and saved a lot of money too.
Alternatively, try out couch surfing and experience Portugal through the eyes of your host. They are usually invaluable for some local recommendations and you will definitely save money.
How Much Does Food Cost In Portugal?
What You Pay For Eating Out
Compared to other countries across Europe, you will find it is quite cheap to eat and drink in Portugal.
To give you an idea, I have listed the following numbers for your budget calculation:
Lunch for 2 with drinks in the city centre: 15 – 30 €
Meal for 2 in a fast food restaurant: 10 – 15 €
Basic dinner for 2 with drinks: 25 – 40 €
Coffee: 0.50 – 1.10 €
Pastel de Nata and other pastries: 0.70 – 1.00 €
Bottle of wine in a restaurant: from 3 – 5 €
The Portuguese love to eat out in company and regularly do so. However, they arrive at the restaurant not earlier than 8pm and most kitchens do not open before that time either. If you witness someone having dinner in the early evening, you will know for sure who they are: tourists! 😉
Another thing I want to make you aware of when eating out is that in Portugal you will be charged for everything on the table – olives, cheese, bread, butter, sardines and so on. I have seen many restaurants just bringing out appetisers no matter if you asked for them or not. If you don't want to pay for it, just leave it on the table. It is not that expensive though, so you might as well enjoy it.
How Much To Pay For Groceries In Portugal
Prices for shopping in the supermarket are comparable to any other western countries and groceries are best bought in either at Continente which is a huge supermarket chain to be found all over Portugal or the German brand Lidl which is currently expanding worldwide (yay!). If you find yourselves in the city centre look for the smaller supermarket Pingo doce which will still offer you reasonable prices and variety. I can totally recommend buying local fruits and vegetables in one of these tiny Portuguese shops as they are cheap and totally yummy!
Note to self: Branded health and beauty products are a bit more expensive than in other European countries. So better stock up properly in advance.
Weekly grocery shopping: 60 to 80 € for two people (heavily depending on your lifestyle of course)
Bottle of good quality wine: from 2 € (there are often specials like get the second one half price or something similar, so look out for those!)
Local beer (Super Bock Albadia, Sagres Bohemia): less than 1 € per bottle
Did you know that the minimum wage in Portugal is only 485 € gross salary per month as of 2016 and therefore relatively low? Well, neither did I. However, it also means that prices for services will not burn a hole in your pocket, so if you're in need for a haircut you might as well wait for another week and go get one while you're travelling Portugal.
How Much Will You Pay For Tourist Attractions And Sightseeing?
The biggest money saver tip I can give you when it comes to exploring a city in Portugal: Have a look online whether anyone offers free walking tours in the city you want to discover. For example, Porto Walkers and Chill Out Lisbon free walking tours will take you around their cities on foot, show you all the cool things and provide you with so much interesting background information.
How Much To Pay For Attractions
Sightseeing in Portugal will not come as a high expense for your whole travelling adventure.
In fact, you will only pay between 1 and 7 € for most sights. To give you an idea:
Guimarães
Duke's Palace in Guimarães: 5 €
Castelo de Guimarães: 2 €
Viana do Castelo
Santuário de Santa Luzia: 0.80 €
Cable car to the sanctuary one way: 2 €
Cable car to the sanctuary roundtrip: 3 €
Other Cities
Castelo de Lindoso: 2 €
Entrance to Paiva Walkways: 1 €
How To Save Money In Porto
The super handy Porto Card can be bought at the tourist info in the city centre. With this you'll be able to visit 11 different museums in the city and enjoy discounts an additional 8 other museums, in several restaurants, when visiting the aquarium and for boat tours on the Douro River.
And the biggest plus, of course: public transport will not cost you anything extra. Additional info can be found here.
You can opt to buy the card for individual or a couple of days:
How To Explore Lisbon On The Cheap
When going sightseeing in Lisbon, you might want to check out buying the Lisboa Card. This 3-in-1 option allows you to take the public transport as well as museums for free and gives you discounts on certain sights and tours.
After your purchase, the card will be valid for you to use for one year until you've started validating it in Lisbon. Purchase options are the following:
Now, you're wondering why it is worth buying the Lisboa Card and how you will make the most of your trip to Portugal's capital? Don't worry and stay tuned for my Lisbon Itinerary, which will be published very soon!
How Much Do Tours In Portugal Cost?
When it comes to comparing tour operators and prices, I think you can search yourself to death. Literally.
Lots of sights, attractions and locations can be best explored on your own in your very own pace. So, how about you rather focus your research on what you really don't want to miss in Portugal and for the most important must-do, you go choose to do a tour?
Here are some of the tours that I have done and can highly recommend:
Porto Walkers Wine Tour (4 hrs.): 20 €
Gerês National Park Special Day Tour with DETOURS (with pick-up and drop-off in Porto): 100 €
Walking, biking or trekking with Descubra Minho: On request
Surf lesson with Drifter Surf: From 20 €, depending on season
How Much Does Nightlife Cost in Portugal?
Having travelled the country, done some great surfing and lots of hiking and now you're in need of having a night out and enjoying a good party? Well, look no further and go to Bairro Alto in Lisbon. You will find nice bars, great music and lots of cool people. If you happen to have made some local Portuguese friends, let them take you to the local bars and clubs to avoid the tourist trap nightclubs and entrance fees (5 € minimum).
Depending on the region and season, whether there are many travellers around, the prices alternate a bit, of course. The following will give you an idea of what to expect:
Local beer (0.5l): 1.00 €
Imported beer (0.33l): 2.00 €
Glass of house wine: 1.50 to 2.00 €
Bottle of Apple cider: 1.00 to 1.50 €
Caipirinha: 3.00 to 5.00 €
I know which one I'd choose, not only because of the price, but because I'd rather experience and try out the local stuff as imported beers I can have anywhere.
If you end your party night with taking a cab ride back to your hotel, Airbnb or campervan: keep 0.50 € per km ready because that's approximately how much the driver will charge you. Or use Uber and you know right away how much you will have to pay (and you can do so over the app directly).
So, How Much Does It Really Cost To Travel Portugal?
If you're on a tight budget, Portugal surely is the cheapest option for a trip in all of Southern Europe. Some even say it is currently the cheapest country in the Eurozone.
Interested in learning about all the other reasons why Portugal is so fantastic? Read on here.
Have you been to Portugal? Did you manage to travel on a tight budget or were you able to splurge away? Leave me a comment below.