This is a journey back to the country where I was born, home, some would say, even though 'home' is widely defined for me these days.
Nisha has recently spent a ton of time in Berlin, working entirely remote for a cool startup called Get Croissant, which started out providing access to dozens of beautiful coworking spaces across New York and now also is available in other great cities around the world. Maybe one day I'll convince her to write about this incredible mega city where it all started too!
But for now, we are diving into Berlin, the capital of Germany and one of the coolest nomad hubs you can possibly find in Europe!
I'll let Nisha take over from here…
There is so much going on in Berlin! It is known as one of the major hubs for freelancers and startups in Europe. That, and also the food and history are what attracted me to Berlin and why I chose it during my recent trip digital nomad-ing around Europe.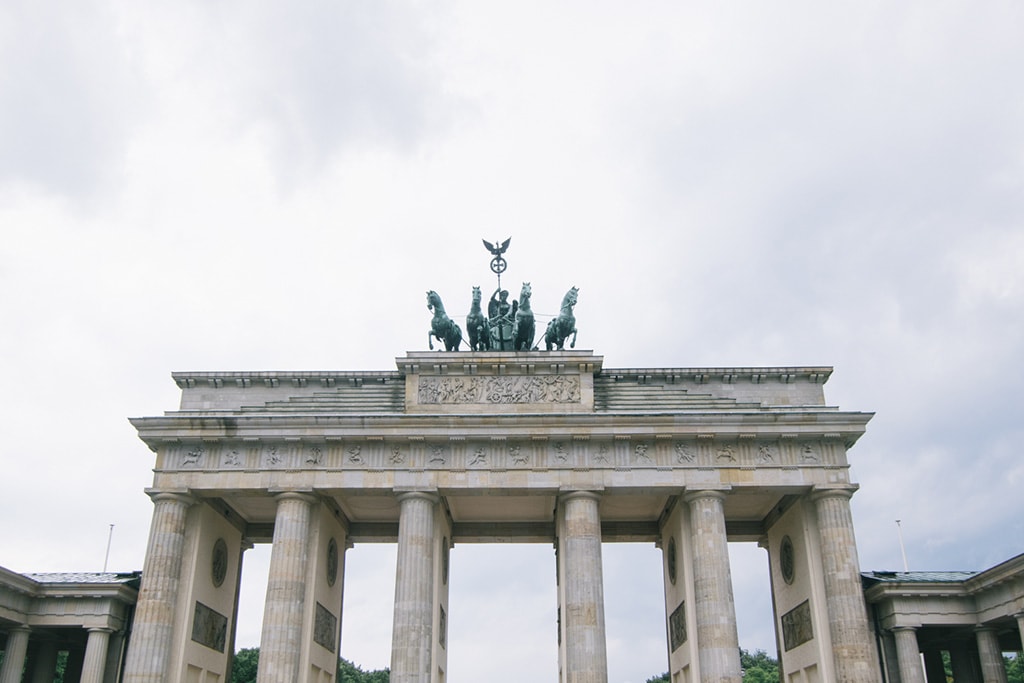 As a New Yorker, I appreciated that Berlin had the things I love about NYC — the endless things to do and speedy public transportation. Yet Berlin was still very affordable and never overly energetic or crowded.
I'm a female startup founder, and It was absolutely perfect for my remote work lifestyle. I can't wait to share my favorite parts of Berlin with you!
Here Are Some Basic Tips For Berlin
Berlin is the capital of Germany and also its largest city. The population hovers around 4.5 million. Its tumultuous recent history during World War II and the Cold War is definitely present everywhere you go.
Most Germans under 30 speak English, but it seemed that they appreciate if you try speaking German! Even just a little bit help – just look up some basic phrases and numbers online and memorize them, they will love you for it!
Carry cash with you, as a lot of places don't accept credit card.
Meetup and Internations are both good apps for finding events around the city and meeting like-minded people.
Getting In & Around Berlin
Public transportation in Germany is excellent. I recommend finding an apartment close to a U-Bahn (underground subway), or the S-Bahn (above ground train that runs in one massive loop around the city) so you can easily get from one neighborhood to another.
The monthly pass gets you unlimited access to trains, subways, trams, and busses.
Pro tip: If you won't be traveling on weekday mornings, you can get the 10-Uhr-Monatsticket off-peak monthly pass. For 60 euros, you have unlimited access to public transport after 10 AM on weekdays and anytime on the weekend.
My favorite way of getting around was by scooter! Berlin has two on-demand scooter rental companies – Emmy and Coup.
Download their apps, sign up (you will need an international driver's license), and you can see where scooters are parked nearby. It's just so fun and convenient!
Kreuzberg and Neukölln are the hippest neighborhoods to stay in! Prenzlauerberg is a slightly more expensive and posh.
I stayed in Wedding during my time in Berlin. It was less hip, but much more affordable than the aforementioned neighborhoods, while still having great transportation and places nearby to grab a bite to eat. Schöneberg is also a great neighborhood to stay in.
Berlin is huge on food culture. I am a cheap eats kinda gal, and I used Foursquare and Google Maps for discovering affordable, delicious nearby spots.
If you want somewhere to start, here's my shortlist of my favorites:
Try the savory won ton soup at Monseiur Vuong
Get in line for one the legendary burgers at Burgermeister
Take a friend to Yarok and share a massive plate of incredible Syrian food – meat, veggies, hummus, and all that good stuff!
Visit Markthalle Neun food market and eat all of the things
Go to Dan Thai Food for tasty noodles. My family is Thai so I had to see for myself what Berlin Thai food was like. This place did not disappoint!
Ice cream at Hokey Pokey is considered by some the best in Berlin — the Hokey Pokey flavor was my favorite
Have a trendy brunch at the Instagram-worthy House of Small Wonder. The plant decor is incredible!
And of course, eat lots of and lots of doner kebabs everywhere you go, especially the Gemüse Kebabs (with grilled veggies)
Here are some favorite picks for things to do in Berlin.
#1 Choose from a huge selection of teas at the quaint Tee Tea Thé. They have delicious scones with clotted cream and jam. I came here way too many times to read and enjoy the afternoons during the summer.
#2 Listen to free jazz jam sessions under the train tracks at The Hat Bar. Every night after 9pm!
#3 Visit some of the world-class museums the city has to offer. The two that stuck with me most were Tränenpalast and Topography of Terror.
#4 Make a free reservation online to take a tour of the Bundestag Parliament Building and the famous glass dome. You can see the political magic happen from above.
#5 Get your rock climbing shoes on and head to Der Kegel or Boulderklub.
#6 Try your luck getting into Berghain but be ready to wait in a line. Best time to visit is apparently Sunday morning.
#7 Take a midday stroll to Gendarmenmarkt and marvel at the old cathedrals.
#8 Head to Mauerpark on a Sunday, grab a beer, look through some antiques, and watch folks singing their heart out at karaoke.
Workspaces To Check Out In Berlin
Berlin is remote work heaven. You will be spoiled for choice. There are tons of coworking spaces and coffee shops if you need a place to connect to wifi and cozy up for a day of work.
The coffee shops below all have solid wifi, good coffee, and plugs for charging.
The sandwiches are great and it's a large space so I could stay all day without feeling guilty.
Cozy coffee shop with the perfect amount of background noise. I loved browsing through all the inspirational magazines lining the walls too.
Whenever I walked in, there would be the amazing smell of freshly ground coffee beans. The lattes here were my absolute favorite.
There are also many many coworking spaces in Berlin.
My favorite workspaces in Berlin were:
Cozy, delightful space in Schöneberg. I love the amazing natural light, little plants, and friendly living room feeling.
Super sleek and bold space, with strong coffee shop vibes. It was a great place to just focus on what I need to get done. And how can you not love that name?!
It's both a coffee shop and coworking space. It's international, young, fresh, and a well-known freelancer and tech hangout.
If you want to easily work from these coworking spaces and more, you can check out my app Croissant, which lets you work from inspiring workspace at the touch of the button.
It works at 150 coworking spaces around the world!
Day Trips Outside Of Berlin
I have a particular love for cute colorful rows of old houses. There aren't too many cute towns around Berlin like there are in Bavaria and the south of Germany, but Quedlinburg was a good day trip!
You can take the Harz Berlin Express on the weekend from Berlin Hauptbahnhof (€35 for two people round trip). Walking around, I kept getting the song Belle from Beauty and the Beast stuck in my head!
Another cute small town choice is Poznan in Poland. I took a PolskiBus there and then proceeded to eat many pierogis. It's a chill weekend trip. Have a coffee in the beautiful main square.
Potsdam is a good afternoon trip since it's so easy to get to. Potsdam's main attraction is the huge summer palace grounds. I also just loved hanging out in the main town. Although it is only half an hour away from Berlin, it is very different and feels more like a small quaint town. You can visit the new Barberini Museum while you're there too.